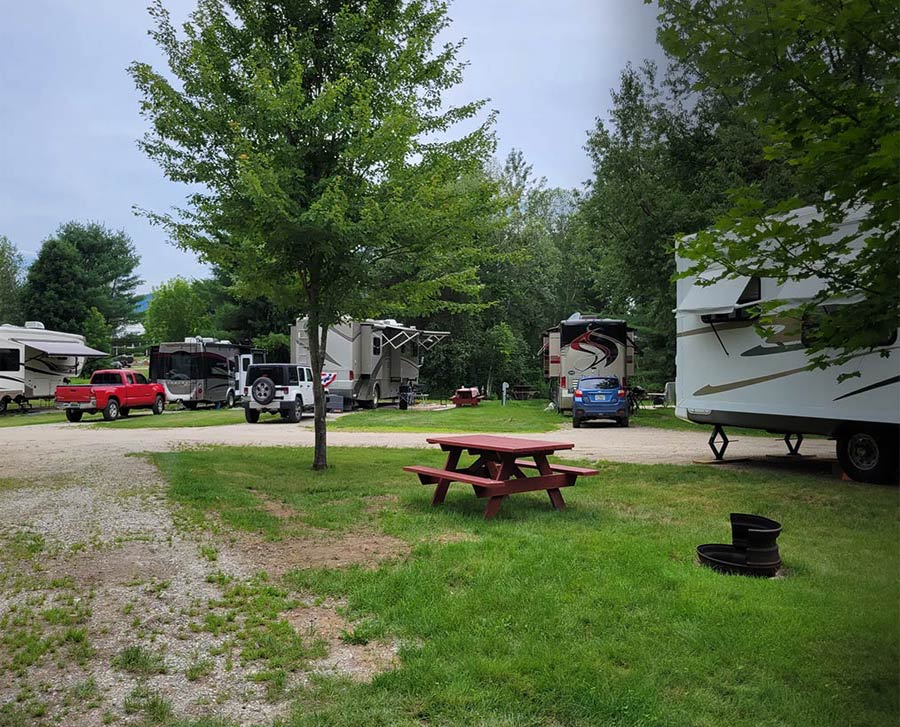 Bethel Outdoor Adventure is situated in a beautiful location in Bethel, Maine next to the Androscoggin River, making it an ideal base for river adventures. A paved pet-friendly pathway connects us to the town of Bethel and the local Davis Park. Additionally, we are just five miles from Sunday River Ski
Area. We have reasonably priced sites for both RVs and tents.
We open each spring on May 12th and remain open until October 15th.
Our administrative building has a small retail store stocked with a variety of items just in case you discover you left something at home. Just ask us– we'll be glad to assist you!
We are located on U.S. Routes 2 & 26 on the banks of the Androscoggin River, 1/2 mile north of Bethel, Maine (approximately 12 miles from the New Hampshire border).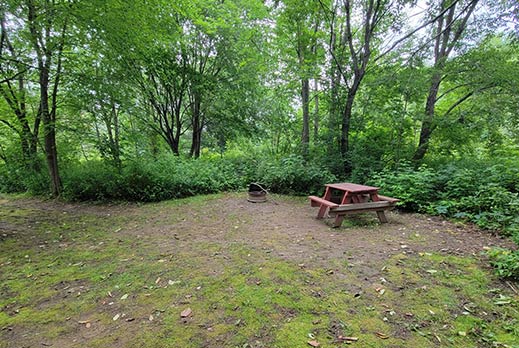 Wooded, grassy sites are shaded and private
Wifi
Hot Showers
Fire-pits at every site
Firewood available for purchase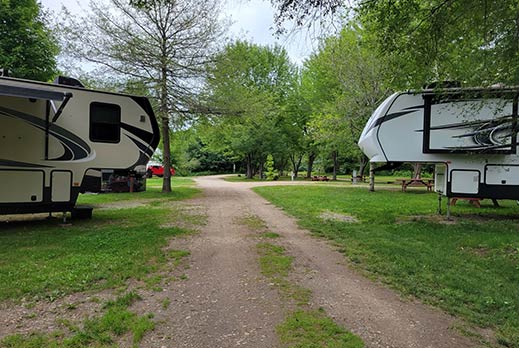 Big rig easy access

Full hook-ups

20/30A or 50A service

Wifi

Dump Station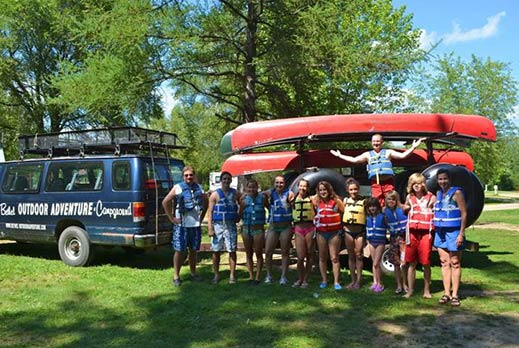 Pets allowed
Canoe, Kayak, Tube Sales and Rentals
Laundry & Store
Fishing
ADA Restroom in Main Lodge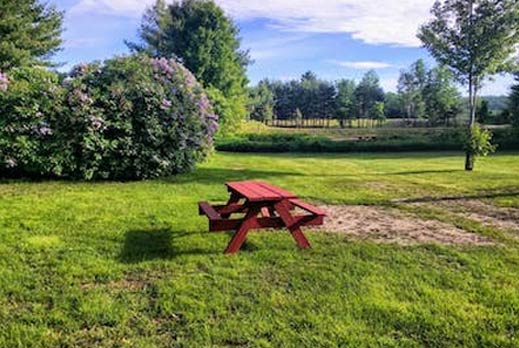 We have space for large group gatherings. Call us to discuss details of your next family reunion or friend getaway!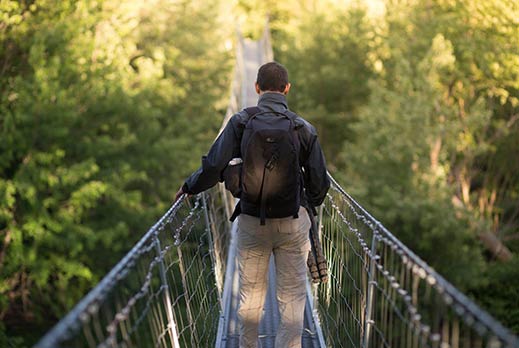 Rent canoes, kayaks & tubes and head out on a river trip without driving anywhere!
Walk over the awesome Burma Bridge to a 1 mile walking trail around Hastings Island.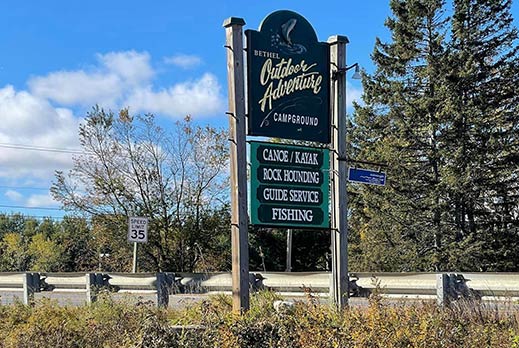 Within walking distance of the beautiful town of Bethel.
Enjoy coffee shops or restaurants and explore this historic New England town.
Premium Full Hook Ups
$48
Per night
2 Adults & 2 Children
Full Hookup incl. 20/30/50 amp electric, water, & sewer - ALLOWS FOR SLIDEOUTS ON BOTH SIDES
Standard Water / Electric Sites
$40
Per night
2 Adults & 2 Children
Full Hookup incl. 20/30/50 amp electric & water
Per night
2 Adults & 2 Children
Full Hookup incl. 20/30/50 amp electric, water, & sewer
Per Person Per Night - 4 Adults Maximum
Extra Guests at Tent Site
$5.00
Per person per night
Per night
2 Adults & 2 Children
1 Night Free with Stays Over 6 Nights
Monthly & Season Requests
Please contact the office for information, rates and availability
The site you choose MAY NOT be available to you based on occupancy UNLESS you have chosen to LOCK your site during online booking.
Check-in Time: 3:00 – 6 PM; NO CHECK INS AFTER 8PM
Check-out time: 11:00 AM
As a courtesy to the other guests in the park we DO NOT allow check ins after 9 pm.
Campground Speed Limit on ALL roads is 5 mph. WATCH FOR CHILDREN!
Quiet Time: 10:00 PM to 8:00 AM – We want to provide all guests with a pleasant camping experience and ask for your support in allowing others to rest and relax. You will be asked once to comply with this rule. If a second visit is necessary, you will be asked to pack your equipment and leave the park, immediately. We also ask that no fires are started after the hour of 9:00 PM.
24-hour access to the Bath House.
Laundry facilities open 8 am- 5 pm
Campground office open 8 am – 6 pm
Parents are responsible for their children at all times. Campers under 16 must be on their family's campsite between the hours of 9:00 PM and 7:00 AM and be accompanied by an adult if they must leave for restroom use during these hours. This is for their safety.
You are responsible for your visitors conduct. We do ask that you stop by the office and advise us of expected guests. The guest should stop at the office, and let us know who they are, who they are visiting and what site they are going to visit, prior to entering the park. Guests should leave quietly before 10:00 PM. Visitors remaining after 10:00 PM will have an $8 per person overnight-stay charge and a $5 per vehicle parking fee, added to your bill. Knowing who is in the park at all times is for everyone's security and safety.
Campfires in fire rings only. Please extinguish the fire completely before leaving or going to bed. The flame height of fires should not exceed 24" above the top of the containment provided. Firewood is for sale at the camp store, foraging for wood, or cutting trees, removing branches or other vegetation is not permitted.
Fireworks, washing of vehicles, off-road parking/driving and/or riding of motorbikes and/or ATV's is prohibited.
NO ELECTRIC VEHICLE CHARGING
Please maintain and leave your campsite in the same condition as you found it upon your arrival. If you feel your site is not clean and acceptable when you arrive, notify the staff immediately so we may provide service before you set up your equipment. Place all trash in the dumpster.
State law prohibits dumping food waste anywhere except into trash receptacles. Please do not clog our sink drains, scrape dishes before washing.
You have paid for one campsite. Please respect your neighbor's space by asking the staff for assistance in locating the boundaries if they are not clear to you, prior to setting up your
equipment. It is easier to set up on the correct site rather than having to move later.
There is no smoking permitted inside any campground building.
Alcoholic beverages may be consumed at camp sites only. Please be responsible and be courteous to your fellow campers. We want everyone to enjoy themselves and be safe during their visit with us, underage alcohol consumption or public intoxication will not be tolerated and will be handled by the Oxford County Sheriff or Maine State Police, depending upon whoever can visit you first.
Sewer connections require the use of donuts or elbows.
Do not leave any trash outside of your tent/camper
Please do not approach the river down the steep embankments; that area is protected by the Shoreland Protection Act. (Poison ivy is also very abundant in unmowed areas of the
campground.) There is access to the river under the big trees in the southwest corner of the campground
This property is privately owned. The camper accepts camping privileges with the understanding that he/she does hereby release the Campground, its officers and employees of all liability for loss or damage to property and injury to his person arising out of his use of its camping facilities, and agrees to indemnify the Campground, its officers and employees, against claims
resulting from loss or damage to property or injury to the person of any member of the family or guest of the registered camper arising out of the use of its camping facilities.
Shoes must be worn at all times while on campground property
ANIMAL WAIVER
Please keep pets on a leash and in control at all times. Be sure to clean up after your pet.
We require a current rabies and distemper certificate be presented for pets. We also require that a waste disposal bag or device be carried whenever exercising/walking your pet and that you use it to remove all pet waste and deposit it in the dumpster immediately. Anyone who leaves pet waste anywhere in this park will be asked to leave, no excuses, no refunds. Pets are no longer allowed in many campgrounds because of irresponsible owners. We will continue to admit pets but will not tolerate abuse of this privilege by any guest.
2 Pets Max Per RV / TENT site. 6 PETS MAX per GROUP SITE
I hereby agree to the following regulations and conditions relating to my dog while camping at Bethel Outdoor Adventure with my dog.
Excluded Areas. I agree to keep my dog out of the following areas including, but not limited to, food and beverage areas and the main lodge.
Excluded Dogs. I agree that the Campground has the sole discretion to exclude dogs. The basis for exclusion may include, but is not limited to the following: breed-specific exclusions; due to their young age are exempted from state or local law vaccination requirements; are sick; are in heat; are aggressive, vicious, dangerous or potentially dangerous; require muzzling; or are easily frightened or sensitive, resulting in disruptive behavior (such as fighting or biting) in response to a stimulus.
Supervision. I agree to keep my dog on a leash or in a carrier while in all public areas of the Campground. I further agree to have my dog with me or a designated individual at all times, and understand that I may not leave the dog unattended in the cabin or at the campsite. I agree to prevent noise or any other disturbance by my dog, in the interest of other guests at the Campground.
Vaccinations. I represent and warrant that my dog is up to date on all vaccinations (including rabies and distemper) and flea treatments.
Disturbances. I agree that, should my dog create any disturbances, which cause complaints to be made to the management by other guests or employees of the Campground, at the request of a Campground employee, I will immediately make arrangements to house my dog elsewhere outside the Campground. Additionally, I understand and agree that if I do not find alternative housing for my pet after being asked to do so, I will be asked to leave the Campground and will not be issued a refund.
Assumption of Risk and Release. I understand that my permission to have my dog at the Campground with me is a privilege and not a contractual right. Such permission is expressly conditional upon my adherence to the terms of these rules and other rules in effect at any given time. I understand that the Campground may revoke such permission at any time for any reason. Additionally, I hereby assume all responsibility of risks, injury, damage, other harm that may occur while my dog is at the Campground or caused by my dog. Further, I hereby knowingly and voluntarily expressly release and discharge the Campground, its owner, its agents, its parent companies, members, managers, directors, officers and employees ("Released Parties") from any and all claims, damages, liabilities, injuries, demands, or causes of action, both present and future, whether known, unknown, anticipated or unanticipated, that me or my guests or invitees may have against any of the Released Parties arising out of or incident to my dog's presence in the Campground, whether arising from any act or omission, whether negligent or otherwise, of me, my dog and/or any guest or invitee. I further agree to indemnify each of the Released Parties for any and all such claims, damages, liabilities, injuries, demands, or causes of action, including costs, expenses, and attorney's fees arising as a result of or related to the presence of the dog at the Campground. This provision shall be enforceable to the fullest extent of the la9
Payment Policy:
50% Deposit Required
Cancellation Policies:
14 Days or More - Full Refund
3-13 Days - 50% Refunded If Paid in Full
2 days or Less - No Refund
No Shows - No Refund